Blue & Gold. The colors of Cub Scouting. The blue stands for truth and spirituality, steadfast loyalty, and the sky above. The gold stands for warm sunlight, good cheer, and happiness. Blue & Gold is also the celebration of Cub Scouting's birthday… 92 this year. For Pack 170, it is when our AOL Scouts complete their Cub Scouting journey and cross into Scouts BSA. That adds another dimension to the meaning of the colors… a little blue as our AOL Scouts depart the Pack and very Gold with pride for their amazing achievements.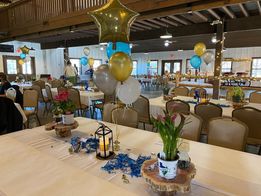 A small crew arrived early to help setup, including one of our special guests, Mayor Christine DeLisle of Leander. My van was full of plants donated by Leander HEB Plus and "lazy susans" made from rough-cut Cedar donated by WoodChucks Wildwood Sawmill in Fairfield, Texas. There were birdhouses for the kids to paint along with paints and paintbrushes… all for the table centerpieces. Ms. Stacy brought balloons and helium and other table decorations in her car, butcher block paper and crayons too. Everyone, including Mayor Christine, pitched in. As more people arrived, we had more helping hands, so we were all ready to start on time.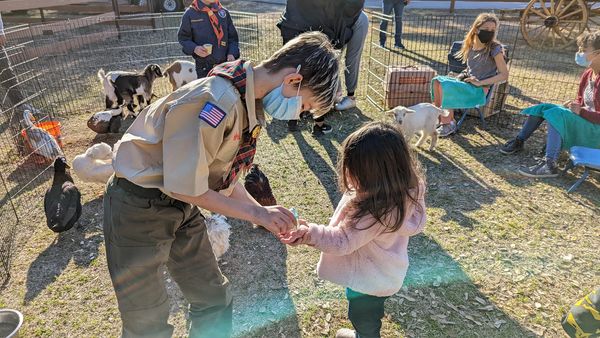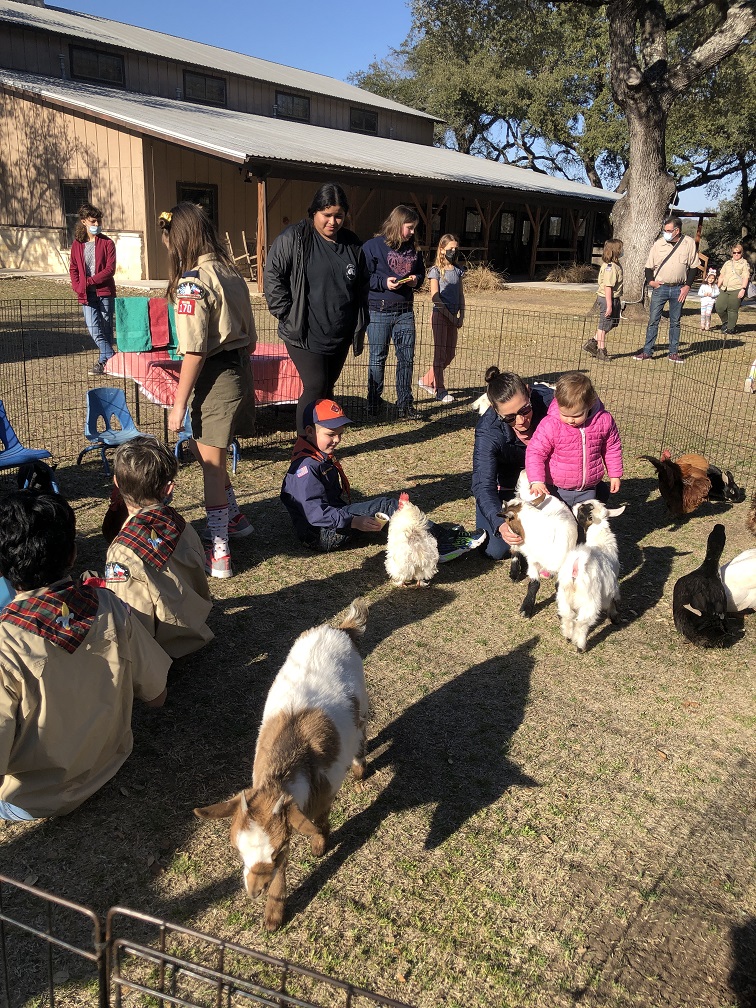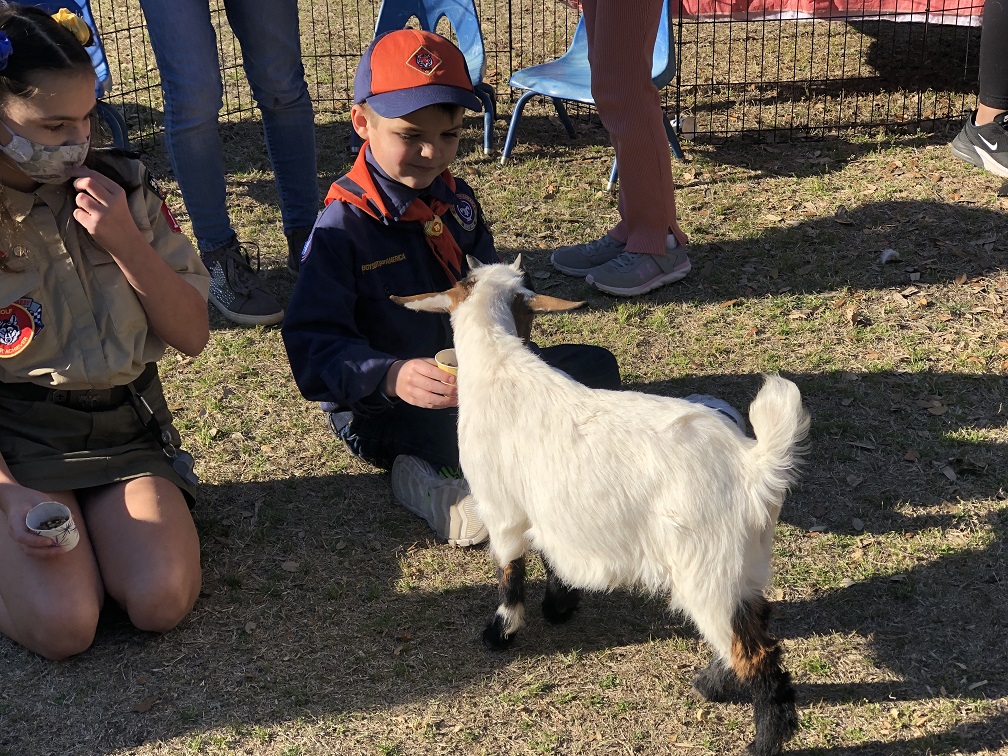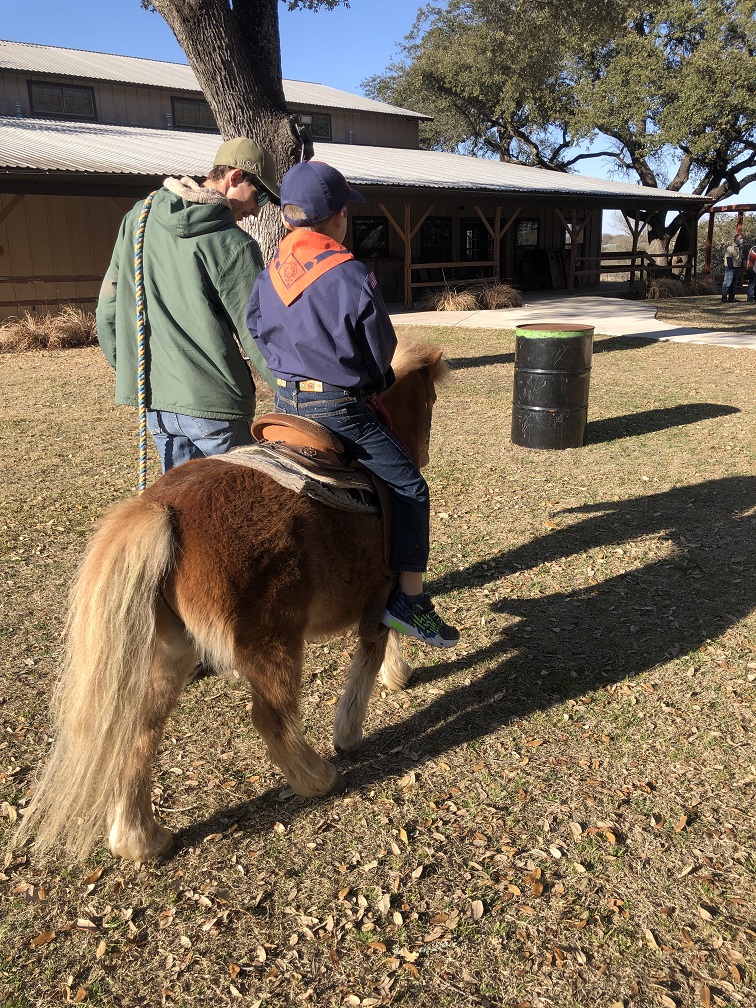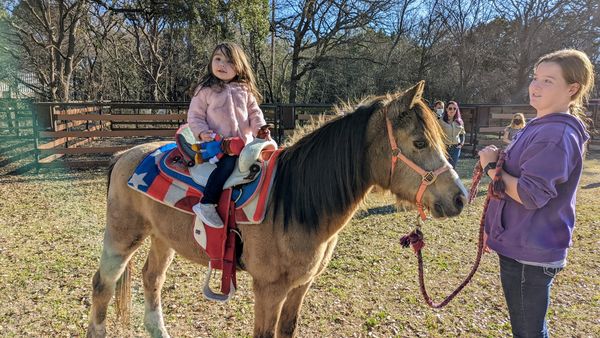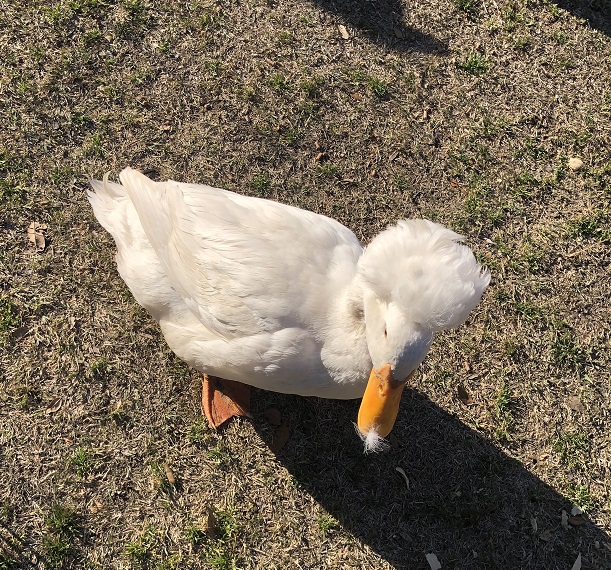 Blue & Gold started with Fannie's Farm Friends mobile petting zoo, complete with ducks, chickens, goats, and even ponies to ride. Scouts and siblings alike were able to interact with the animals. Petting, feeding, and riding… a trifecta of fun.
For the opening ceremony, our Arrow of Light Scouts came to the front, facing to the right, thus presenting 5 American flags to the gathered assembly. We recited the pledge of alliegence and the Scouts returned to their seats.  The first order of business following the opening was a change in Pack leadership. Our Cubmaster of 4 years, Mr. Dylan, was crossing over to Scouts BSA with his son. The tradition in Pack 170 is to fly a Texas flag over the state capitol for the new Cubmaster and to present the Texas flag that flew over our Pack during his tenure to the outgoing Cubmaster. Another tradition is to hand down the Cubmaster neckerchief. Cubmaster Dylan left the stage to join his son for the crossover ceremony after he left us with a few words reflecting on his time with the Pack.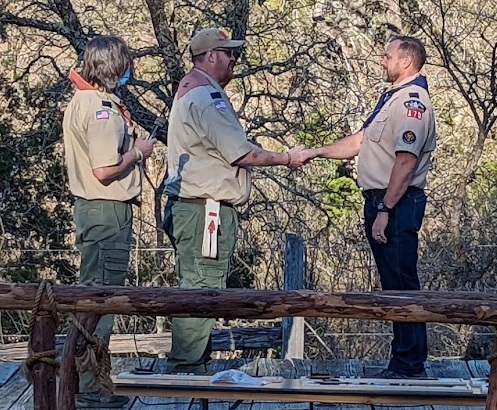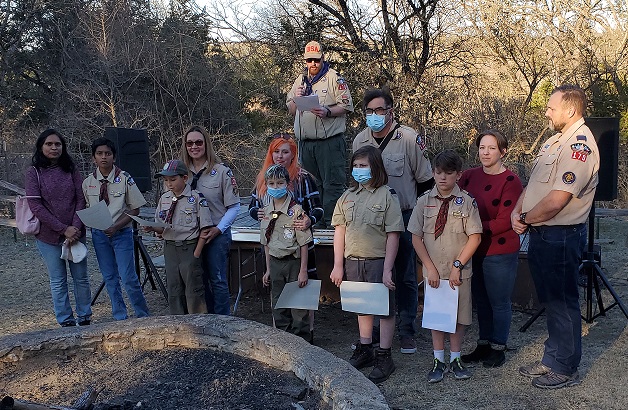 2022 Pack 170 AOL graduating class: Left to Right
Vanam, Molinar, Putnam, Rutledge, and Martin families
New Cubmaster Rob officiates from the stage
Pack 170 saw 5 AOL Scouts receive their last Cub Scouting awards with the highlight being Cub Scouting's highest honor, the Arrow of Light. They had help along the way, from their families and their den leaders. They also had help from outside of our Pack. Leander Mayor Christine DeLisle helped them earn "Building a Better World" by talking to them about our system of government and answerring their questions. Scouts BSA Scout Leander M. of Troop 161 (Leander is from Germany but he lives here in Cedar Park) shared his experience Scouting in Germany, helping them to earn Scouting Adventure.
State Representative John Bucy was on hand to personally present a certificate of achievement from the Texas House of Representatives to each Scout and congratulated them on their accomplishments. This was the fourth consecutive year that Mr. Bucy recognized our AOL Scouts. He works with AOL patrols in Packs around the 136th Congressional District, which includes the North Shore District, to help them complete Building a Better World.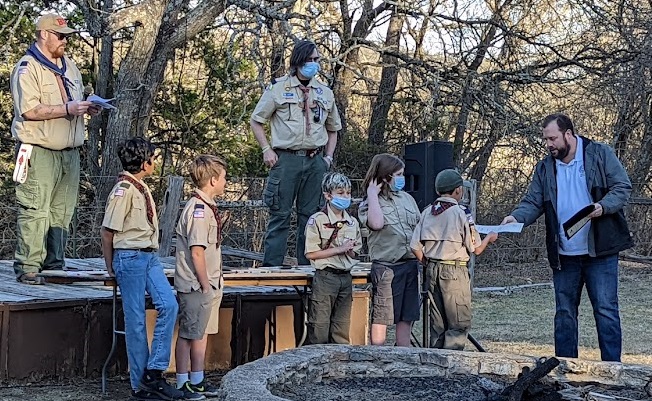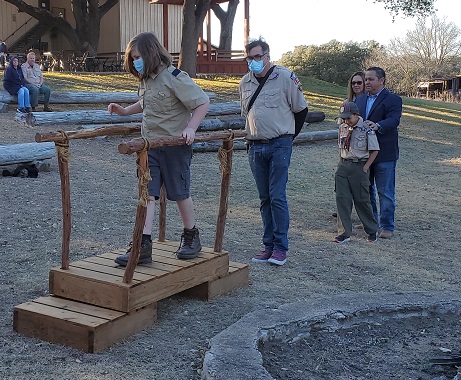 The program continued with the bridging ceremeny into Scouts BSA. Cubmaster Rob's ceremony told the story, "Climbing the Mountain" by BSA co-founder Ernest Thompson Seton, that follows a challenge for young Scouts to climb a mountain and bring back a twig from wherever they stopped. Each Scout in the story represents a different rank of the Cub Scouting adventure. You can read the full ceremony at the link above (scouterlife.com). One by one, Scouts crossed the bridge followed by their family members where the trappings of Cub Scouting were removed, blue loops and Cub Scout neckerchiefs, and replaced with those of Scouts BSA. 2 of our families joined Troop 161, 2 were received by Troop 258, and 1 was welcomed by Troop 91.
"Top of the Mountain" is one of Ernest Thompson Seton's stories. He was an naturalist, artist, and author and his writings caught the attention of Lord Robert Baden-Powell. Seton founded the Woodcraft Indians, a youth organization originally for boys, in 1902. He published "The Birch Bark Roll of the Woodcraft Indians" handbook in 1906. Later that year he met with Baden-Powell where they discussed the book at length . The following year, Baden-Powell held the first Scout enclave at Brownsea Island that started the world-wide Scouting movement.  The Woodcraft Indians merged with the Boy Scouts of America when Seton co-founded it in 1910. He wrote the first Boy Scout Handbook and was the first and only "Chief Scout" from 1910 to 1915.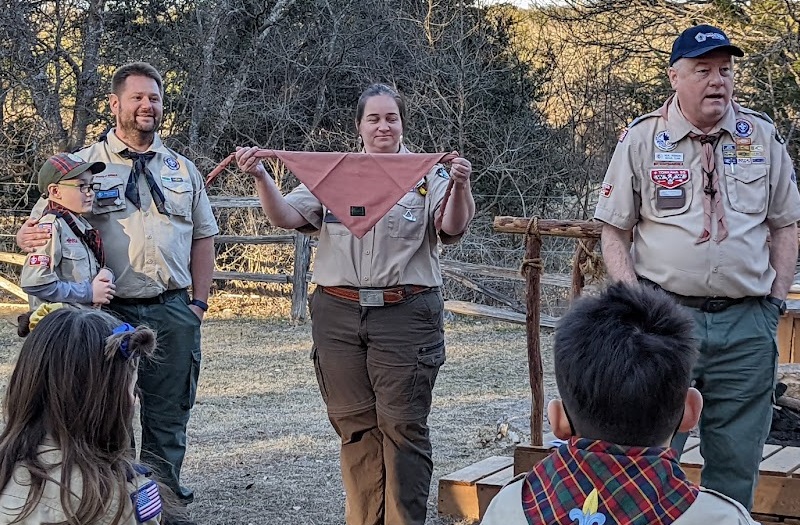 One last  thing to do outside. Our Committee Chair, Mr. Erich completed his "ticket" from Wood Badge and was awarded his neckerchief, woggle, and beads. Staffers from his Wood Badge course came to Blue & Gold and shared some of the history and traditions of Wood Badge. The highlight was when Mr. Erich's son placed the neckerchief around his dad's neck.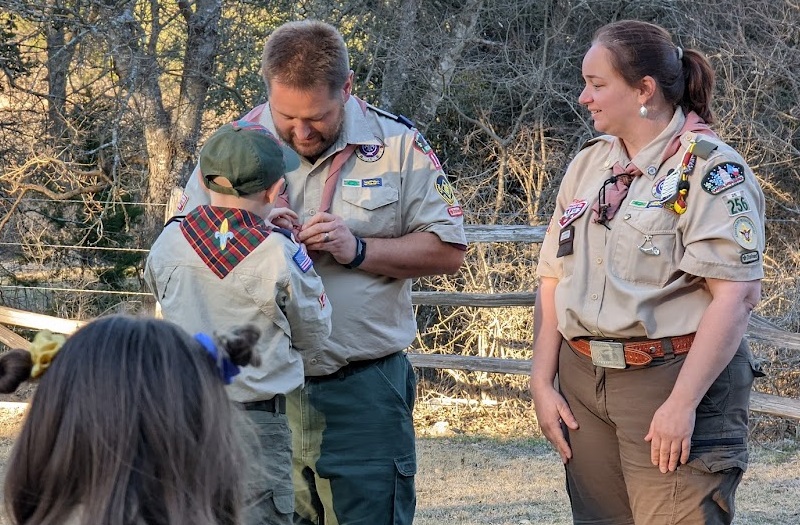 Our families moved inside for dinner after the Wood Badge beading ceremony. The fajitas were delicious and provided gluten-free and vegetarian options so everyone could partake. Following  the meal, we introduced our special guests, District Executive Douglas Cooper and District Commissioner James Bartley. Jim is a Pack 170 alumni.
Next, we introduced Mr. Lawrence Pacl (my father) who was born February of 1930 making him the same age as Cub Scouting. Mr. Pacl was a Wolf Scout in 1939 under the original Cub Scouting program and he shared some engaging and amusing stories about the earliest days of Cub Scouting from the Scout's point of view. Before signing off, Mr. Pacl pointed out that Arrow of Light did not exist when he was in Cub Scouts and congratulated each AOL Scout on thier achievement.
Lastly, we introduced Leander Mayor Christine DeLisle. Mayor Christine has been working with our Arrow of Light Scouts since 2020 and this was her second time at our Blue & Gold. As before, she wrote a letter to each of our Scouts congratulating them on earning Arrow of Light and encouraging them to continue along the Scouting trail. She also presented certificates of achievement to the AOL Scouts from the City of Leander. To me, however, the best part was the story she told about the Leander City Council and a connection to Cub Scouting. Mayor Christine always has a great story.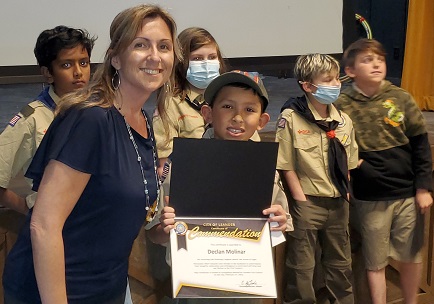 Though not present, both Governor Greg Abbott and US Congressman John Carter sent recognition to our AOL Scouts. Governor Abbott sent a very encouraging and congratulatory letter while Congressman John Carter sent congresional certificates of achievent to each Scout.
We wrapped things up with our traditional Blue & Gold birthday cake. Everyone helped to clear things out and we were heading back home in a jiffy.